The Mono-glass is part of RCA fashion graduate Yi Wen Lim's SOFT POWER project (RCA 2019). SOFT POWER celebrates women at work and represents a new image of power and femininity.
RCA Fashion (Womenswear) graduate Yi Wen Lim has produced a stunning, wearable Mono-glass as part of a finals project entitled SOFT POWER.  The jewellery collection was designed in collaboration with Yi Wen Lim's close jeweller friend Agatha (Instagram: @raccoonandbabiesofficial), and explores re-appropriating jewellery in the formal workplace. Above: Model Mercedes von Thun-Hohenstein wears Yi Wen Lim's design 
Highlights in the collection include the merging of power pearls with everyday work accessories, stationery and tech wearables – these pieces include a biro pen cap ear cuff, Airpods pearl necklace, ID Badge necklace and the Mono-glass with Hair-clip.
"The Mono-glass is inspired by work glasses that women wear, sometimes as a means to establish their intelligence and competence," says the designer. "It is also inspired by tech accessories like the Google Glass, which perhaps can one day be integrated into more 'aestheticised' designs like the SOFT POWER Mono-glass," she explains.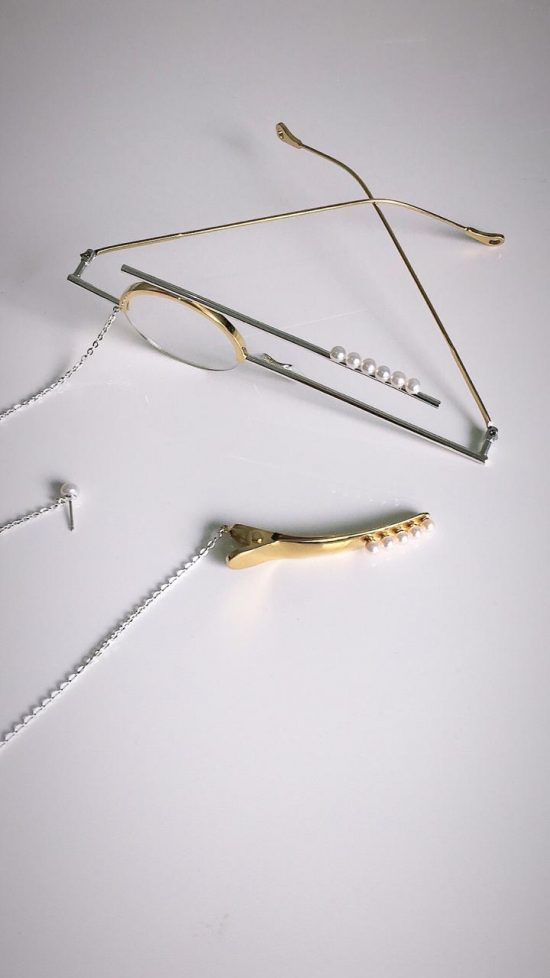 Yi Wen Lim's friend/muse Mercedes von Thun-Hohenstien (
www.mercedesvonthun.com
) wore the monocle design at the RCA finals presentation in London in June – and immediately caught our eye. "I found her through Instagram @mvthun21," said Yi Wen Lim. "She is a mature model, and has been very generous with her time and support for me. She has modelled for my presentations and for video and photoshoots. We have become close over the past few months, and we are now great friends." For more information about Yi Wen Lim's work visit her page on Instagram – @__wenlim. Other RCA posts on Eyestylist:
https://www.eyestylist.com/2016/12/rca-x-100-optical/
CN