1st June 2014- J.F. Rey is synonymous with innovative frame creations and amazing colours. Designer Jean-François Rey tells the history of the family label to Eyestylist.
Could you please give us a brief history of the brand. "I am above everything else a French eyewear designer from the Jura region, the French eyewear capital. It was in a privileged family context that I acquired my know-how from my father and grandfather – two generations who specialized in frames. I was about 16 years old when I designed my first collection for the family company, respecting the tradition of French eyewear. So I can say that the famous "French Touch"  of J.F. Rey is coming from my family experience. After working in my father's company, I collaborated for major labels in ready-to-wear fashion, including Agnès B., Issey Miyake and Marithé Francois Girbaud, before launching my own collections. In 1995, I created the company you know today in Marseille, in the south of France. I am the director of Bli-DPB (J.F. Rey and Boz) and Sli (Sky Eyes and Volte Face)."

Colours in the collections are always beautiful – is this influenced by your Marseille location?  "J.F.Rey is recognized worldwide for its unique design signature, including unexpected colour combinations. This creative and aesthetic challenge is mainly in the hands of my wife Joëlle, Artistic Director. We find inspiration all around us: travels, paintings, fashion textiles, cultures etc. New and permanent inspirations make you feel alive and give you ideas for creation and design." One of our secrets is also teamwork and the J.F. Rey philosophy.There are no limits between design and colour – on the contrary. J.F.Rey is a family story with a common passion that continues today in the way we work. Team spirit is very important to us, at each level of the work, and it contributes to the success of our collections. The J.F. Rey Creation Studio is composed of 5 designers, working on all the brands. Together, the designers develop close and positive relations. Sensibilities, experiences, and visions are different from each designer, and this makes the difference, a very constructive and efficient way of working."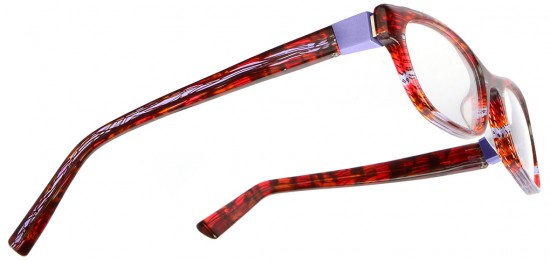 Your collections include a variety of different materials. Are there any new materials you would like to use in future collections? "Each collection is the opportunity for a new creative and technical challenge. In ten years, we have succeeded in taking techniques to the limits and managing projects to fruition that we thought were impossible. The passion that characterizes our designer's signature makes the difference. Challenges bring unexpected results that are very exciting for everybody. A new laser cutting and engraving unit allows us to engrave materials, and we can rejuvenate acetate and metal, and create amazing graphics at a touch. For the future, we are preparing surprises for our customers. And yes, a new material will be used. But "chut" for the moment……."

What do you think are the biggest challenges facing eyewear designers today? "The eyewear field is an attractive world for creative people. At the beginning of the adventure, eyewear design was only responding to medical requests. Along with other designers, we've introduced design dimension:eyewear for aesthetics, frames as a fashion accessory. This obviously has turned out to be the very core of our design projects. We always try to create trends, to preserve our difference, and our typical design signature. It's a real opportunity to have the possibility to continue our passion, and bring it to the competitive market and eyewear evolutions. Our work is aimed at the final customers; to create surprise, to attract and bring happiness." www.jfrey.fr JG
Photo of J.F. Rey and Joëlle by Luca Santocono exclusively for Eyestylist. All Rights Reserved.