Cody and Eric Balzan at HAPTER
25th November 2014 Today Eyestylist launches a new series – Eyewear Canine Companions. We have discovered some amazing four-footers who bring joy, fun, companionship and inspiration to designers and opticians.
When Eric Balzan chats about his dog Cody, his face beams. "Cody is a rescue dog and I just fell in love with him. He's a mixed race dog that we found at a dog shelter. We were told there were a few problems with his eyes and he doesn't hear very well. It didn't matter – I fell in love with that one! Once Cody was out of the shelter, he changed. I brought him up to the mountain and he walked behind me. The only problem was that he was then so tired he couldn't walk down! So I carried him down, and he loves the rucksack."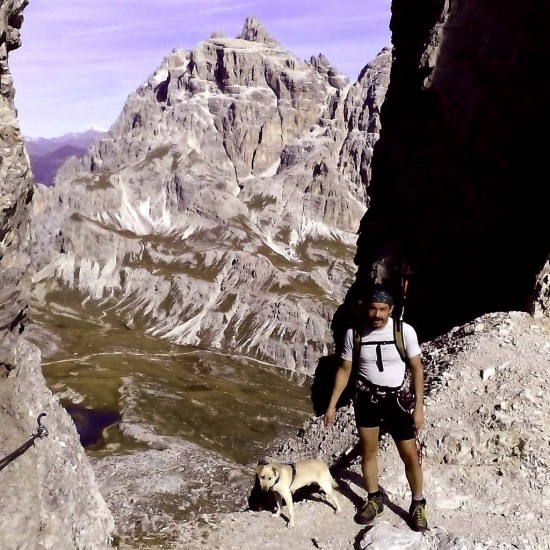 Balzan and the mountains are ubiquitous – it was during a mountain exploration that Balzan and his design partner Mirko Forte discovered the glacier military goggles that launched their business. Now Cody is part of the designer's trekking and hiking. "Cody is my best design inspiration when we are in the mountains," says Balzan," and he really enjoys it all.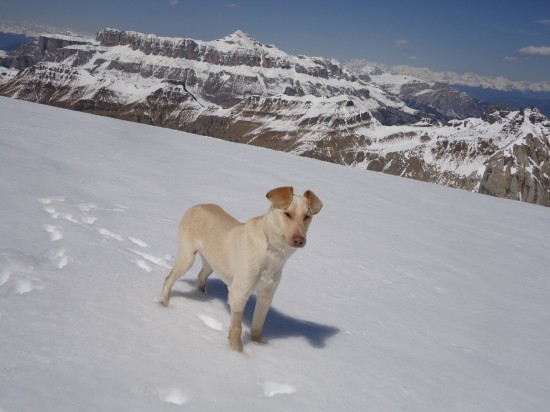 "Unfortunately, with Cody's eye problems, when the light goes down, he would fall over. We tried different doctors, and discovered it was cataracts. We had a drive with family and friends to raise funds for an operation. The vet was an hour and forty minutes drive away, but Cody had the operation, and he has recovered his sight. He is always with my wife Antonella and I – we take him everywhere including art exhibitions. He is a very cultured dog!" www.hapter.it JG