Munich
"Who cares about brands? Care about eyewear." Leidmann
After several visits to Munich, Eyestylist was delighted to visit the Leidmann boutique last month. Directed by Philipp Foret, this Leidmann location is a much talked about eyewear haven that opened on Maximilanstrasse in 2013, the third optical outlet created by Munich optician Chris Leidmann – and one to go out of your way for if you are in this part of the world.
Designed by local architects Kirsten Scholz and Stephanie Thatenhorst, the spacious interior combines a modern, international setting for fine eyewear with the atmosphere of a charming artisan eyewear factory. Showcasing elegant natural materials –  untreated oak and leather, alongside concrete and steel, the effect is dramatic and elegant and perfectly in tune with Philipp Foret's observation that natural artisan eyewear has carved a niche for itself at the luxury end of the market and, that in Germany, it has a particularly enthusiastic and established following.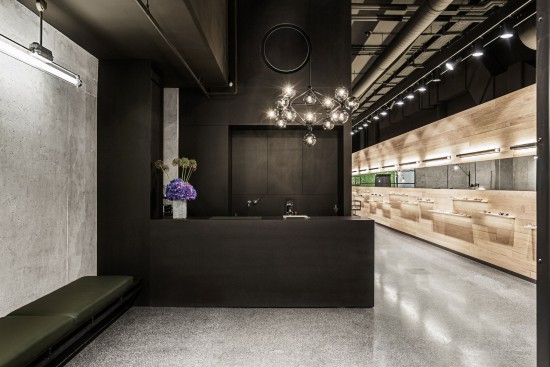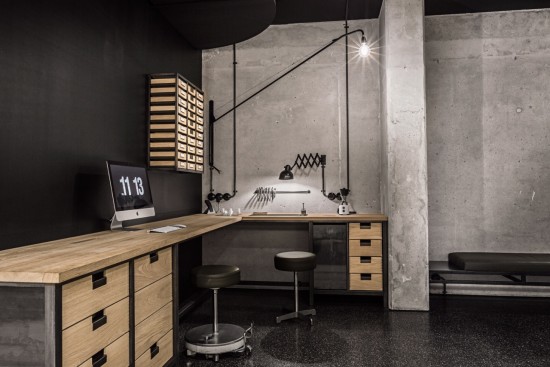 Featured collections for 2015 at this branch of Leidmann include first-class brands Hapter, Barton Perreira, Thom Browne, REIZ, Ralph Vaessen, Eyevan and Onono. A buffalo horn house label – Foret Leidmann has also been created especially for the store. Each and every label is beautifully arranged in hidden drawers in the wall, -(we opened a drawer ourselves to find a stunning display of Italian Hapter designs) and on minimal wood shelving where individual designs are highlighted under dramatic state-of-the-art lighting.
When a finished frame is ready for collection, a special presentation awaits every new owner: the frame is arranged in a striking display in a huge wood-clad island at the centre of the store, a touch that underlines the value and quality of each design and the appreciation the owners have for the finest design, quality and materials – in both eyewear and lens choices.
Leidmann, Maximilianstraße 11-15, 80539 Munich. www.leidmann.de CN