Barbara McReynolds and Gai Gherardi, co-founders and co-designers of l.a.Eyeworks, share with Eyestylist the history of their legendary eyewear boutique.
"We opened our store on Melrose Avenue in 1979 because we wanted to change the conversation about eyewear. Having worked as opticians for several years with many of the best craftspeople and boutiques in southern California, we had grown restless and dissatisfied with the 'sea of sameness' we observed in the optical scene. Conspicuous logos, drop temples, enormous lenses, bland colours, narrow gender definitions, and optical shops themselves with heavy wooden furniture and potted plants – we wanted nothing to do with that kind of vocabulary or clichéd expectation. We were suffocating and we sensed that others were too. It was time to clean it all up; go back to the archetypes, re-imagine them, and open the face to new ideas.
"The context of our store was critical to the evolution of l.a. Eyeworks. Instead of frame boards or armoires, we created a gallery setting where glasses were presented unadorned, in repetition, and in every possible colour. Giving generous light and air to the frames made people graphically present in the space, and it allowed the glasses to be seen as objects of design. This was a new retailing concept for optical at that time. It was our way of giving people a gentle nudge to reawaken their sensibilities.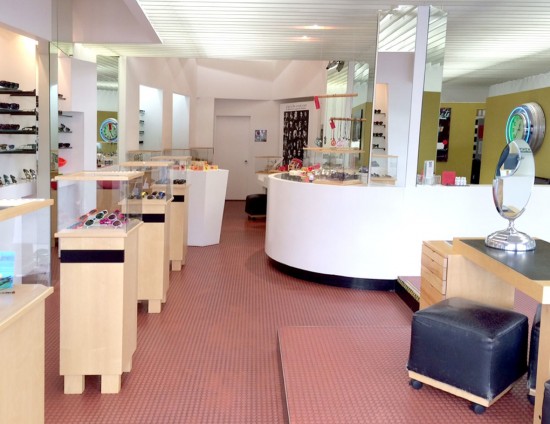 "Equally important was Melrose Avenue itself, which catapulted in a few short years from a relatively barren retail frontier to being the heart of music and visual culture in Los Angeles. Hardcore punks, artists, new wave darlings, fledging actors, clothing designers, filmmakers, and characters of every sort were all mingling in the atmosphere of our store. It's hard to describe the dynamic in any other way than to say the store was vibrating. Add to that the stunning diversity of faces we were seeing! Everything was ripe for reinvention and we celebrated that moment by giving people room to rethink the paradigms. Our first eyewear designs, our window concepts, our ongoing projects with artists, our advertising campaign and our tag line, 'A face is like a work of art. It deserves a great frame' were all born from that milieu and its incredible energy.
"In addition to our own designs for eyewear, we also envisioned our store as a platform to showcase emerging international designers and brands. This began very early, around 1980 on a trip to Paris, where we were awestruck to come upon the creations of Alain Mikli. We carried his complete collection home in our suitcases to make its debut in the United States. And there have been many 'firsts' like this with other kindred spirits through the years. In our store today, you will find Kirk & Kirk, Rapp Optical, Jeremy Tarian, Kuboraum, Lucas de Staël , Alaine Bekaert, Hoet Couture, Blake Kuwahara, and Mykita, among others.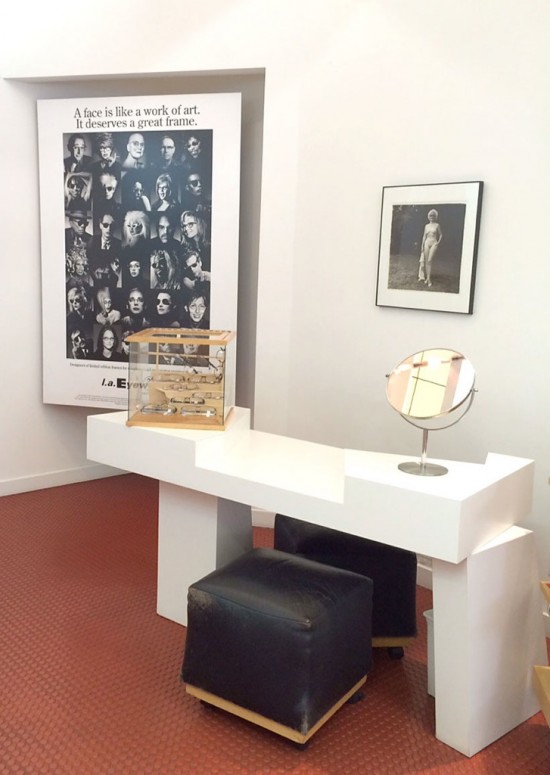 "In many ways, the store itself has changed remarkably little since its inception. The footprint is the same and we love to brag about our Pirelli rubber floor that has stood up to 35 years of traffic. We continue to make provocative slogans and puns for our windows to talk to the world outside the shop ('the original Twitter feed' as we like to call it). There's our giant clock, the original sales radius built by Gai's father,  the gorgeous furnishings by architect Josh Schweitzer, the Diane Arbus photo of a naked woman in sunglasses – these things are in the grain now, and they continue to resonate for us and our clientele. Nor have we wavered from our original mission: that glasses are imaginative, intimate vehicles that can give an individual permission to express themselves more fully. We have, and have had, other retail spaces, but the mothership on Melrose Avenue remains the heart of l.a. Eyeworks." www.laeyeworks.com JG