Italian Acetate with Global Accolades
One of the first new words I learned when starting to work in eyewear was "Mazzucchelli." When designers and companies mentioned quality acetate, it was Mazzucchelli. The company was spoken of with reverence, awe and respect. After many years of admiring the lustrous beauty of Mazzucchelli, there was an opportunity to visit the company's headquarters  – with a group of delightful Dutch opticians – located in the charming Italian village of Castiglione Olona, near Milan. Res/Rei, who produces all their imaginative designs in Mazzucchelli acetate, graciously organised an informative and inspiring visit to the firm that was founded in 1849.
In the ensuing one hundred sixty plus years , Mazzucchelli has created innovative, colourful and technical acetate marvels, that enables designers to broaden their approach to eyewear, and to explore and expand unlimited potential in frames. Creating acetate is a complex process that involves many intricate steps.  The knowledge, skill, and experience of enlightened craftsmen have passed down their unique talents from generation to generation. The careful blending of creative artisans and sophisticated equipment produces astounding results.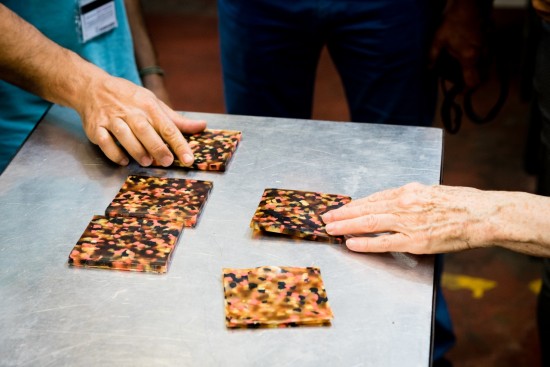 Even though Mazzucchelli has the latest state-of-the-art machinery, it still utilizes machines that were built in 1884. Painstaking and delicate steps are involved in acetate creations, and employees must complete an intensive training period. In addition, production requires special skill sets including mental agility, patience, and experience in order to ensure the colour and high quality expected from Mazzucchelli. The company takes particular care that the employees are safe and protected during these processing operations – and takes great satisfaction in knowing that the staff is passionate and knowledgeable about what they do.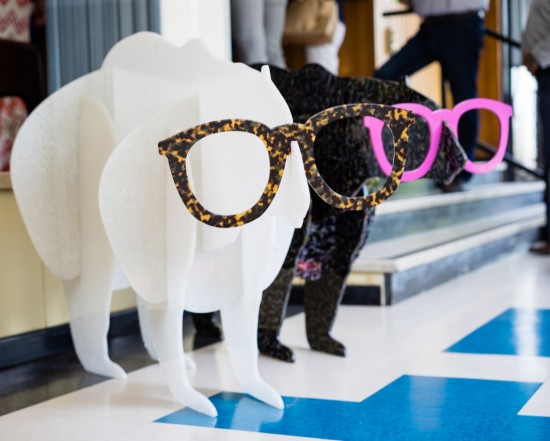 Just as fabric companies follow fashion influences, Mazzucchelli has a keen eye on the trends, and develops 6000-8000 new colours every year, seventy percent of which are custom made. Designers often remark on the "warmth, beauty, smoothness and depth" of Mazzucchelli acetate, and it is one of the many reasons that they create frames in this material. Oliviero Zanon at Res/Rei enjoys scouring the Mazzucchelli archives to find vintage acetates in which to develop his collection. Zanon once remarked that one of the reasons he started to create eyewear, is "because I wanted a more human experience. You interact with all the people involved from the manufacturer of the materials, to the clients…it is quite amazing."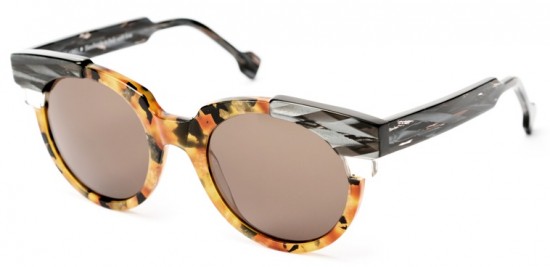 What is also amazing is the continuity of craftsmanship that begins with Mazzucchelli, and continues through to the eyewear designers – harmonious creations made by people who really care. www.mazzucchelli1849.it Res/Rei will be at SILMO 25-28th September www.resrei.com www.silmoparis.com  JG Top Photo: Bach and Mozart from The Musicians Collection by Res/Rei in Mazzucchelli Acetate