Ideas, concepts, and influences spring from many sources – nature, music, art, fashion, architecture, and much more. The latest eyewear collections demonstrate how designers draw upon a wide variety of familiar sources to create frames that are innovative and distinctive. Cuddly little koala bears – Australia's favourite fauna – decorate unique Limited Edition sunglasses by Jono Hennessy.
Hennessy and the family love their country, and decided to celebrate the Australian natives with their fluffy ears and amazing nose. KOALA sunglasses are fitted with quality CR39 brown gradient lenses. Visit www.jonohennessy.com for more super sunnies.
The elegance and charm of music highlights designs from the VIVACE Collection that includes XL2116, in a contemporary silhouette with sleek understatement.
Fluidity and smooth design features are crafted in flexible Excellence Titanium, and the frame features temples with delicate colour ingredients that harmonise with subtle contrasts. For additional styles inspired by the world of music in the Line Art Collection explore www.charmant.com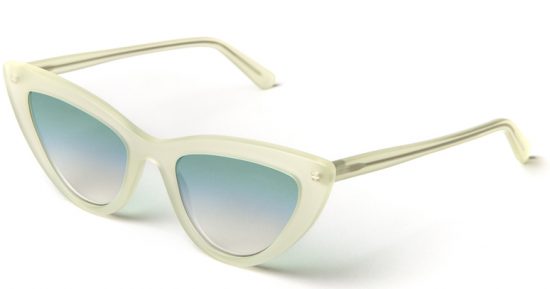 The landscape, colours, and natural beauty of The Isle of Capri inspires Luca Gnecchi Ruscone's delightfully chic Capri Collection. The newest rendition is Orchid – a glamorous cat-eye in Matt Limoncello with gradient green lenses. The Capri Collection captures the atmosphere, beauty and colours of the Italian Rivera reflected in Luca's graceful designs. www.lgrworld.com
The rich tones and blossoming beauty of nature influences frames in Oliviero Zanon's Flowers Collection for Res/Rei. The frames are handmade in a variety of acetates – fusing and overlapping to create designs that express flower petals and delicacy. Amaranto is the latest interpretation in The Flowers Collection that projects feminine flair. www.resrei.com
A clear, tranquil, aquamarine sea comes to mind with Kirk & Kirk's beautifully transparent design – Ray from the Kaleidoscope Collection – in lightweight, durable Acrylic. The bold shape adds lustre and allure to a design characterised with smooth, modernised elegance. www.kirkandkirk.com JG