London's choice of eyewear and independent design brands is rising quickly. Several new optical stores have opened across the city in the last few months. New mono brand stores and exclusive independent boutiques are changing the face of optics in a city where consumers are more informed and interested in eyewear fashion and good design.
1. Chakshu London
The new boutique style practice Chakshu is located in Camden. The store has been created by a team of optometrists who have also launched their own eponymous house brand  in premium Italian acetate. Their additional brands, meticulously chosen to suit a variety of styles, offer the latest designs. They include Lunor, SALT. Optics, and from Paris, FACEAFACE.
Chakshu London Opticians has been created as an independent practice "where you will receive a highly professional service from a knowledgeable and experienced team." The eye examinations are conducted using state-of-the-art equipment, including an OCT 3D retinal scanner.
The co-founders have worked in a variety of different optometric settings from smaller independent stores to large retail chains. Combined, they have over 30 years' optical experience between them. Chakshu London, 97 Parkway, Camden Town, NW1 7PP  https://www.chakshu.co.uk/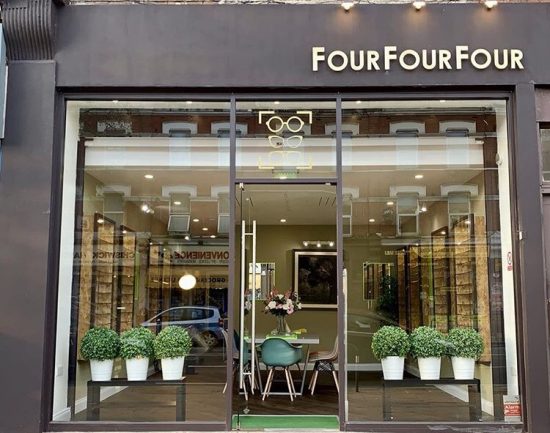 2. FourFourFour
Located in Chiswick, West London, FourFourFour opened in March 2019. This is a sister store to Barnes Nineteen at 19 Barnes High Street, and it stocks a variety of design labels including Henau, Nine, Silhouette and Garrett Leight. A modern and minimal interior – which moves away from the clinical look of some traditional British optical stores – is becoming the norm in the UK as eyewear is seen as an important fashion consideration. 444 Chiswick High Road, London
3. Izipizi Paris
Izipizi is the latest opening in the Soho/Carnaby Street area in central London. This is the French brand's second stand-alone store in Europe; the debut store is in the Marais district of Paris. Located in the popular shopping district of Soho, this new corner store displays all of the brand's adult and children's collections in a small yet well designed open retail space. www.izipizi.com
4. For Art's Sake

This is another stand-alone retail store, located in central Covent Garden in the busy covered market.  The store borrows bold design details from the brand's penchant for eclectic style: decadent blue velvet furnishings and brass fixtures have been designed to "elevate the statement-making frames". Many new retail features have been incorporated, from a selfie station to personal shopping (in five languages: Mandarin, French, Spanish, Italian and English), a concierge option, tax-free shopping, "Click and Collect" as well as exclusive colour choices for some of the frame designs. For Art's Sake is designed by Xiwen Zhang who is featured on 2019's Forbes 30 Under 30 list. www.fasforartssake.com CN