"I started Accidental Icon because I was having trouble finding a fashion blog or magazine that offered an urban, modern, intellectual aesthetic but also spoke to women who live what I call "interesting but ordinary lives.." 
Lyn Slater – otherwise known by her Instagram and website handle Accidental Icon – is a true modern-day Renaissance Woman. A former social worker, an academic, a blogger, stylist and an influencer with a following of over seven hundred thousand on one hand whilst being a truly authentic, feminist and all-round strong woman on the other. Slater exudes all of the brilliance and indulgence of what we know to be 'an influencer' in this day and age, yet sheds all the negative connotations that are thought to be indistinguishable with the online segment of the fashion industry and social media. She concerns herself only with originality, intelligence, serendipity and self-empowerment, encouraging and inviting other women like her to "share the pleasures of everyday life and living" as she does.
When and how did you first develop an interest in fashion and how has that journey taken you to this point in your career? I really have not had an interest in fashion but more in the power of clothing to express identity. If you are following trends and concerned with "what's fashionable" at any given time, you are conforming to what others think your identity should be, and I'm not about that. So, for me clothes are like an artistic tool that allows for creative expression – something that I've been doing all my life, even as a child. I was a social worker and academic until I started this project in 2014 – which was the first time I had anything to do with fashion as a system – from that point I just did what I usually do; wear clothing that tells stories about who I am, remember this is all about relationships, act as if you know nothing, ask many questions and be generous.
Your personal collection of eyewear and accessories is extensive as well as diverse – what particularly, if anything, draws you to choosing a piece to wear and / or to purchase? Something that is well-constructed, it is timeless, ageless and increasingly genderless. There is an element of craft involved. However, my style changes all the time depending on the context I'm living in at the moment, what is going on in my work and personal life and how I think I want to show my creativity to the world. There are times I want big and bold and others I may want something more subtle. I also choose from the inside out and what I want to say at the moment with my style. I've never followed norms about anything as they are usually set by those in power to control you. So, it's really just me being me and expressing who that 'me' may be at any given time in my life.
Do you have any thoughts, both positive or negative, on social media and its impact on the society and the people of today? That would be a book – In simple terms it is one of those things that is both, by that I mean it has some productive and democratic uses and some negative uses and impacts. For example, if it were not for social media someone like me would never have gotten past the "gatekeepers" of fashion. It can also do things to your brain which are not productive and erodes critical thinking and analysis. Mainly people allow social media to be in charge of them and lead the way. Social media is a tool and you need to be in charge of how often you turn to it, why you are drawn to it (inspiration or distraction), how you use it to communicate and how you want to be impacted by it.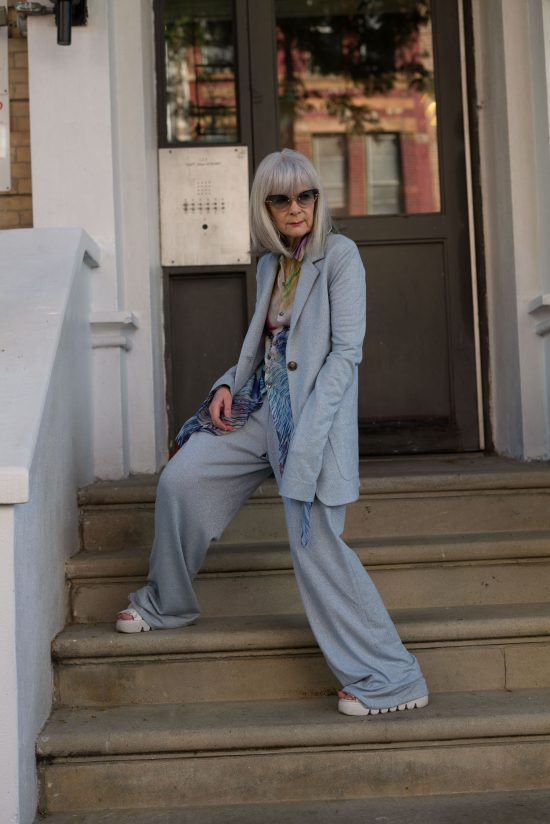 I have noticed you mentioning your evolving love affair with a slow-paced lifestyle – in regard to slow living, what are your thoughts on slow-fashion and leading a less environmentally impactful lifestyle? Do you have any thoughts on sustainability within one's own life?  This public health crisis has really been a wake-up call regarding economic inequality, and I add 'Black Lives Matter' and the political mess my country is in into that list. Fashion Revolution Week and my quarantine started at the same time and I followed all the talks and workshops in London rather than those in New York – there is a higher level of thinking and creativity in my opinion outside the United States. I really deepened my commitment to slow fashion and sustainability during this time especially because the way it was presented in London was all about how creative and exciting the clothing could be. I am really liking the idea of intersectional environmentalism, which simply stated is caring for people, the planet and yourself in everything you might buy, eat, consume (including social media). It's a good way forward for me as a way to incorporate sustainability into my everyday life.
What advice would you give to your younger self in embarking on a career within the industry of fashion? For me this is a difficult question to answer because of the great importance of context – when I was young the world was dramatically different than it is now, so, my younger self could not make use of the advice I would give today. For young people today "a career in fashion" is a moving target in that it is constantly being impacted by huge forces like we have seen with the pandemic, economic and environmental challenges, technology, etc. What that means is that it is constantly being re-designed – every aspect of it, technology proficiency is a must. I'd tell them to ask themselves why they wanted to be in fashion to begin with, if it is to express yourself creatively, I would say be a generalist – learn and practice skills that enhance creativity across many platforms, not just fashion – choose some applicable skills you want to get really good at and study and practice them.
To join the hundreds of thousands already finding inspiration in Lyn Slater's esteemed, curated, individual and experimental lifestyle head to https://www.accidentalicon.com/about/ An interview by Victoria Brunton exclusively for Eyestylist.com.