at the V&A, London
7th July 2015 Launched this month as part of the celebrations surrounding the V&A's landmark exhibition, Alexander McQueen: Savage Beauty, is the opulent display of Anna-Karin Karlsson Eyewear at the V&A store, on sale through to September for London Fashion Week.
Anna-Karin Karlsson epitomises the very best of creative couture eyewear design, focusing on avantgarde, high-octane frame creations with intricate, finely crafted decoration. An admirer of McQueen, Karlsson's Decadence collection is lavish and exciting, and perfectly fitting as a tribute to one of the most innovative couture designers of recent times.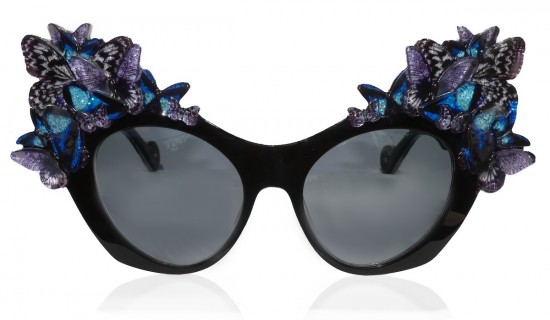 Karlsson has created two dedicated limited edition styles available exclusively at the V&A Shop. 'The Butterfly' (above) is dedicated to the designer's Swedish ancestors who belonged to a tradition of hair jewelry artisans commissioned to create mourning pieces for Queen Victoria; "light and airy" as Karlsson had intended, the design appears laden with pretty, hyperreal butterflies in violet, azure and delicate black and tan.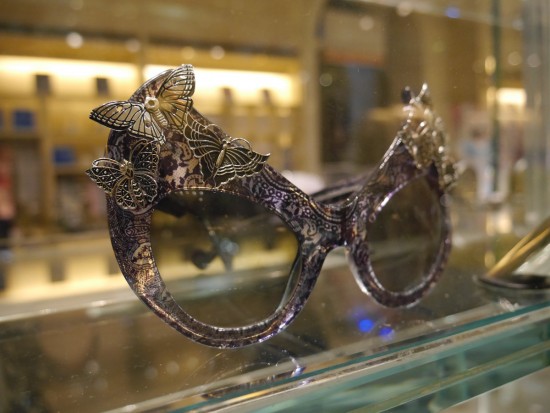 The second collector's piece, 'The Queen' – is a celebration of Queen Victoria and Alexander McQueen; this complex design references Karlsson's own reputation as the queen of sunglasses, and features a transparent lace-patterned acetate and tiny metal butterflies on a typically oversized statement front. Both styles are priced at £575 and are limited to just 10 pieces each.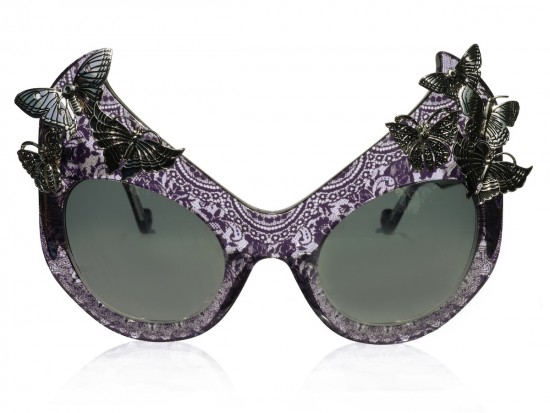 Also in the collection that has gone on sale are showpieces from the Decadence Collection; they include 'Mourning for Miss Blow', a tribute to fashion legend Isabella Blow, and Gold Horse or "One Trick Pony", the extraordinary 24k plated gold design with pony profile. Anna-Karin Karlsson Eyewear is on display at the V&A Shop until 27th September 2015. V&A, Cromwell Road, London SW7. Alexander McQueen: Savage Beauty is open until 2nd August 2015; round the clock opening has been planned for 24th and 26th July and the following weekend until the exhibition ends.  For more information, visit www.annakarinkarlsson.com / www.vam.ac.uk  CN