Third Generation Frame with Timeless Style
4th April 2014 Certain designs are timeless – indeed, they improve with age. Silhouette's FUTURA is an iconic frame that transcends the years. Futura was introduced in 1974 (above); then there was a retake on the cult frame in 2004. The latest reinterpretation is the Futura 2014 to coincide with Silhouette's 50th Anniversary.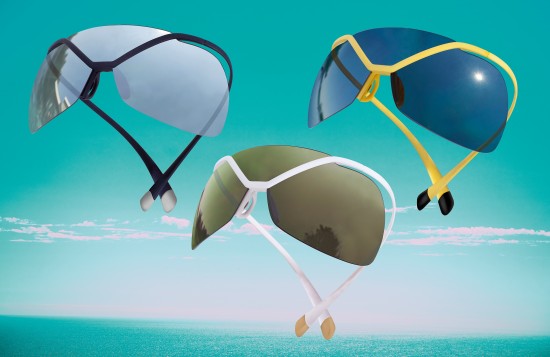 "Thanks to Silhouette's special material technology, the new Futura moulds itself completely to the head, appearing to almost hover on the face," said designer Gerhard Fuchs. The exceptionally stunning frame is available in three energizing colours: a black temple and silver mirrored lenses; a white temple with bonze-colour mirrored lenses; and sunny yellow with black lenses.
Last evening in London, Matches – the ultra chic fashion and accessory store – celebrated Silhouette's landmark occasion and the Futura Anniversary Collection with a private preview. The gala event was held in a beautiful townhouse – 23 Welbeck Street –  owned by the founders of Matches. Tali Lennox, who appears in Silhouette's Futura campaign, was at the event, and chatted with guests and press. For minimalistic and trendsetter coolness, Futura is the ultimate accessory for summer fashion. www.silhouette.com Futura can be ordered online at www.matchesfashion.com JG