1st April 2014 Hapter was created in the Italian Dolomite Mountains in January 2013 by founders Eric Balzan and Mirko Forti, when they launched the txt1001 collection, featuring a trademark tactile expressiveness obtained by a special fusion of surgical steel to high-end textiles. Balzan and Forti share with  Eyestylist how they created and are developing their business.
Before the discovery of the amazing goggles, in what profession were you working? "Mirko brings on board several years of solid experience designing for some of the big players in the eyewear business. Trained as an Industrial Designer, he is in charge of product development, and is the technical side of Hapter," says Eric.
"I am more a hybrid profile matching creativity and business experience, with solid brand and product management experience gathered in a variety of fashion companies, primarily in the eyewear business, but also in apparel and more recently in the watches and jewellery segment. Hapter represents the overlapping zone of different experiences, cultures and personalities of Mirko and I. And the ambition is really to lay the foundations of an eyewear project based on creativity and debate between opposite elements, like Mirko and I. In 2009 the discovery of the heirloom glasses, and the three years that followed have been chaotic, with an uncertain period of dreams, hopes, tries, failures, excitement, and we invested all our savings to create our own independent enterprise."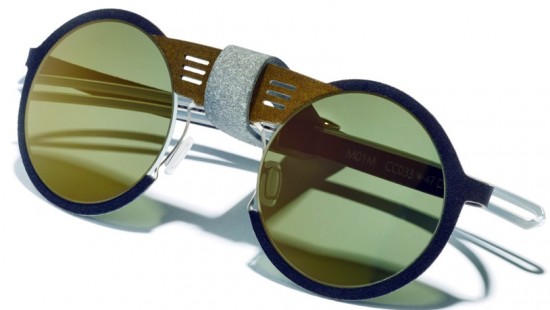 Please tell us about your background and love of mountain climbing?
"Mirko and I met at college, but it was about ten years ago that we started to develop a friendship based on important common interests, mainly in design, eyewear and the mountains. We are expert all-rounders – from ski mountaineering to snowboard to rock and mountain climbing. We assiduously spend our free time wandering on Dolomite Mountains that surround us. We initially treated them as a playground; through maturity we evolved to see the mountains as a mystic place, and a source of experience and inspiration which deserves respect. The mountains are an important element of our culture; therefore, of our project. Besides the lucky retrieval of the military goggles, out minds are soaked with cultural and visual inspiration that comes from the mountains, and this is what we transfer into our project….and in fact….the elements in our project are:
"Brand: We chose the name Hapter by the concept of 'Haptic Perception' which is the process of recognizing objects through touch: hands are still the most important body-part to survive in the mountains, and observing the strong hands of mountain people is an experience in itself. Design: The Dolomite region, in the far north of Italy, is an historic military battle front, but this for us also represents a land of integration between varied and symbiotic cultures. In Hapter, we combine the rigorous structural concept derived from a Nordic engineering background, and the artisanal know-how and flair of Mediterranean expressiveness.
"Tradition: Hapter offers the exclusivity of a multi-prized object, nevertheless it carries the tradition of a luxury product, thanks to a contemporary reinterpretation of unique local materials with history. Style: Mountain people are no-frills and straight to the point – 'repulsion for excess' guides all our design, creative and stylistic choices; the fabrics used in collection txt1001, though artisanal and precious, were developed by an Italian expert in artisan fabrics. They have a light weave and sober, natural shades. Visual Inspirations: We transfer a specific mood, that is typical of the mountain environment: wind, cold, solitude, sufferance, effort, survival are our topics that we transfer to the collection."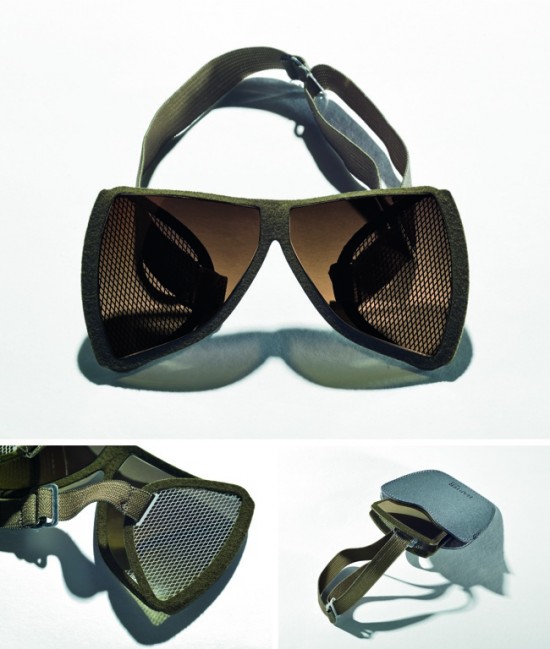 What is the profile of the Hapter customer?
"People that take things a bit more seriously than they should…this is how we are, and how we think our customers could be. People that, no matter what their social environment is, look for solitude and intimate realization in their fast lives. People sensitive to beauty with a consolidated experience of critical consumption, looking for an intimate experience in what they buy. Most of the numerous spontaneous contacts and requests for information in the market comes from artists, fashion and product designers, architects or similar professions. And we think a good number of them fall under the above description." www.hapter.it JG
Photos: Top photo of Mirko Forti and Eric Balzan, and image of the heirloom goggles by Luca Santocono exclusively for Eyestylist.