Fashion Retrospective at V&A
1st April 2014  Fashion from the post-war 1940's period to the current day are highlighted in The Glamour of Italian Fashion 1945-2014 at London's Victoria & Albert Museum. Sponsored by Bulgari, fabulous heritage jewels once owned by Elizabeth Taylor are also on display. Creations from designers synonymous with Italian artisanal tradition include Giorgio Armani, Valentino, Missoni, Versace, Gianfranco Ferre, Mila Schön, Simonetta, Prada, Pucci, and Dolce & Gabbana among others.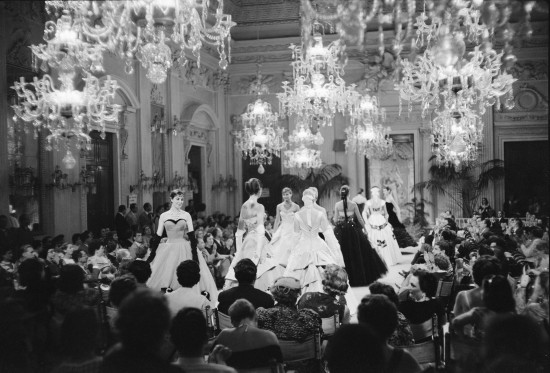 The exhibition traces Italy's rich and influential contribution to fashion – a contribution that extended around the world, and particularly influenced film stars like Audrey Hepburn and Elizabeth Taylor, who became style ambassadors for luxurious Italian clothing. The Glamour of Italian Fashion focuses on the exceptional quality of techniques, materials and expertise for which Italy has become renowned. The country's status as manufacturer and exporter of stylish and well-made fashion and textiles is linked to the strength of its traditional industries including spinning, dyeing, weaving, cutting and stitching; some of these traditions have been practised in regions around Italy for hundreds of years.
The show is beautifully curated by Sonnet Stanfill, who researched Italian archives, and worked closely with Bulgari to select the unique and extraordinary jewels on display. The Glamour of Italian Fashion 1945-2014 is a delightful celebration of Italian fashion and style. Victoria & Albert Museum – 5 April until 27 July 2014. www.vam.ac.uk JG
Photos: Top image: Valentino posing with models nearby Trevi Fountain Rome July 1967 Courtesy of the Art Archive/Mondadori Portfolio/Marisa Rastellini  Ballroom image: Fashion Show in Sala Bianca 1955 Photo by G.M.Fadigati Giorgini Archive Florence Gianfranco Ferre photo by Gian Paolo Barbieri copyright:GIANPAOLOBARBIERI