Silmo Paris 2014
6th October 2014 Trendsetting eyewear designers who shone at the Paris eyewear fashion exhibition Silmo were those who refuse to play it safe. This was a show where we saw more snazzy unconventional shapes on the horizon – modified pentagons, hexagons and aviators – and a fabulous amount of dabbling in 3d concepts, shape deconstruction, asymmetry, and playful contrasts – unpolished and polished surfaces or inner and outer rims, ideas we look forward to presenting in future posts.
New season colour is what you want it to be, classic and demure, or bright and airy. Green, tangerine and opaque 50s ivory have made their way into many lines, as have distinctive marbled and coloured tortoise and camo effects that were in general lighter and more translucent that in recent collections. Highlights included:
Andy Wolf from Austria showed an impressive handcrafted collection. One of their showstopping statement sunnies was a round, sparkling design with diamante inlay – model Wonder E, pictured above.  www.andy-wolf.at.

Grey Ant's "rule-breaker" Grant Krajecki from New York showed us lots of unique design tweaks that are out there on their own. Model Composite – one of his more classical styles – expressed the direction for novel multifaceted shapes and fresh translucent acetate colour – this one is called "sepia". See more at www.greyant.com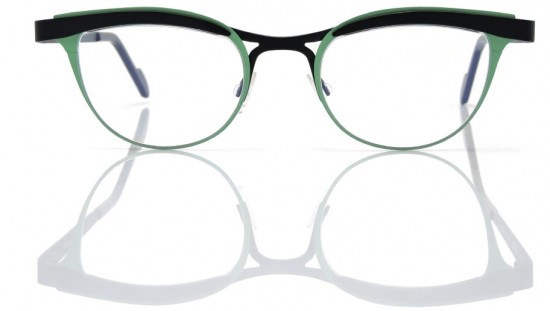 Anne & Valentin's model Wendy is part of the High Line Concept released by the French designer label in Paris last month. The concept is inspiring: the frames all feature a dramatic brow line and the 3d element and exceptional colour contrasts are playful and sophisticated. Don't miss seeing or trying these! www.annetetvalentin.com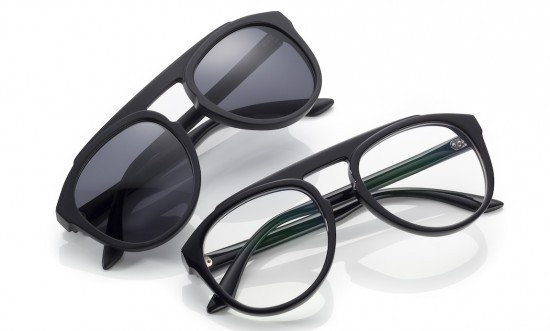 Lunettes Kollektion from Germany were also on a roll. Not only are they doing exciting collabs – with the likes of Christopher Shannon and Michael van der Ham, their own line has expanded with a new 11 piece artisanal edition focused on strong minimal shapes made in premium Italian materials. Model "Grand Tour" is a brilliant example – stripping the aviator shape back to basics for the clever modern take, in black – still  a top fashion choice if you choose the right sharp shaping and quirky small-label artisan glamour. Find out more at www.lunetteskollektion.com
Silmo Paris is an annual trade event attended by leading eyewear brands and designers. Silmo 2015 takes place on 25-28th September 2015. www.silmoparis.com CN