Barbara McReynolds and Gai Gherardi Co-founders/Co-designers
1st October 2014 Creative colour vibrations, unexpected shapes, and innovative materials have characterised l.a.Eyeworks for thirty-five years. Barbara McReynolds and Gai Gherardi are genuine pioneers in eyewear – they launched their first collection in 1979 – long before eyewear had achieved the stylish accolades that glasses now enjoy.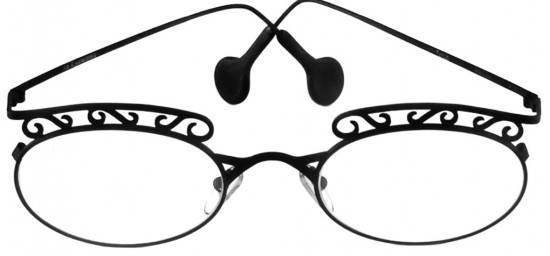 When McReynolds and Gherardi decided to embark on eyewear design, they believed it was time to open up a new kind of conversation about glasses. Their philosophy is that frames are more than just something you wear. Eyewear also expresses individuality and personal expression. McReynolds and Gherardi are purists in their approach to eyewear – each design is hand-drawn – the first step on a path of meticulous production. They use only the finest materials that are shaped by a combination of technology and hand-finished crafting.

The designer's restless imaginations and ability to absorb from their surroundings has resulted in an expanding legacy of glasses that balance innovation with wear-ability. They recall: "Seeing Andy Warhol's work in the 1960s was such an incredible revelation to us. Warhol's ideas gave us permission to break the rules. Watching a video with the legendary jazz singer Anita O'Day was the inspiration for another design."
Do McReynolds and Gherardi have a particular l.a. Eyeworks moment or experience that is especially memorable? "We're easily overwhelmed when we think of all the incredible opportunities we've been offered and the moments of transformation we've witnessed. Different memories flash across the radar at different times. The other day, we recalled the marvellous story a customer told us about walking on the Great Wall of China, and spotting something colourful on the ground. On closer inspection, that "something" was an l.a. Eyeworks cleaning cloth!"

What do McReynolds and Gherardi feel are the biggest changes in eyewear during a thirty-five year period? "Without a doubt, from design to production to communication, rapid evolutions in technology have challenged the possibilities for making glasses. Some developments – like eyewear as some kind of venture capital enterprise – are not so interesting to us. Nevertheless, the 'basics' of glasses as apparatus, sensitivity to the future of fashion, great storytelling, and the principles of good design have never really changed."

As the year-long anniversary celebrations commence, already the exciting news includes l.a. Eyeworks induction to the prestigious CFDA – Council of Fashion Designers of America. A new website is to be launched this autumn, and the latest collection previewed at SILMO is a tribute to Gai and Barbara's creativity and signature flair for colour. Autumn 2014 also unveils a new series of l.a. Eyeworks "Uncensored Visions" – dazzling portraits that feature a sensational group of performers and models wearing iconic l.a. Eyeworks designs. McReynolds and Gherardi's creative vision has established an exciting eyewear legend. www.laeyeworks.com JG
Photo of Gai Gherardi exclusively for Eyestylist.com by Gilles Stüssi All Rights Reserved