…is having a moment
1st November 2014 Join the cool brigade with a dual-tone sunglass or spectacle style. This theme was a popular one at the Paris eyewear show and will have a growing following in 2015, with sun or optical lenses.
Favourites at Eyestylist included the natural finish acetates by ic! berlin – models 61 Freiheit (below) and M5 Hackescher Markt (pictured above). With subdued shadowy acetate colours inspired by earthy tones such as flint grey and sediment brown, the styles are produced with a rough finish – another trend we expect to see more of –  to create an immediate connection to the natural world. www.ic-berlin.de

Also on the must-see list are Res/Rei's luxurious modern-day classics in Mazzucchelli acetate. Styles Giulietta and Marco Polo (below) have perfectly paired dual colorations which play with classical tortoise tones and contrasting blocked colour with a refined translucence.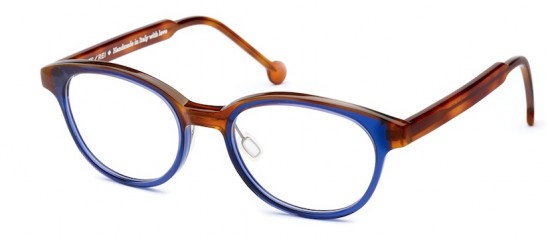 The lustrous finish of the acetate material is the result of extensive hand polishing and adds extra panache to the final effect. RES/REI frames are produced in Italy with production methods that remain faithful to traditional principles of spectacle making.

Visit the website to find out more about the collection: www.resrei.com For more on RES/REI's founder, Oliviero Zanon, click on https://www.eyestylist.com/2013/05/oliviero-zanon/ CN