Just as we'd thought we were up-to-date on all the most creative brands around the world, Niloca Eyewear came to our attention in 2013. There followed the discovery of Scoogle in Melbourne, and several chats with Colin (aka Mr Niloca) in Paris. With a background in industrial design and a fascination for all things innovative in eyewear, it quickly became apparent that this was another rule-breaking label with their own unique approach to spectacle-making.
"I married into eyewear," explains Colin who first met his wife Josie at the optometrist's where she was working at the time." "We went out for dinner and found we'd both outgrown Brisbane. A few months later we were packing our life into a 3 ton truck together and drove 2,000km south to Melbourne. We wanted to open our own eyewear store and expand my 3D printing and design company."
Despite tumultuous initial experiences, including the onset of GFC 1 in November 2008, the Scoogle store has flourished, run by both Josie, a trained optometrist and Colin, the designer. Collections found here today include Niloca, Theo and Anne & Valentin (read about Scoogle at https://www.eyestylist.com/2014/10/scoogle-melbourne/).

"From the outset, our point of difference wasn't our product variety, our brand or price. It was our service, which started from the very beginning, before the frame or customer even entered the store. Exceptional service started with an equally exceptional design, created as a service to cater for the needs and wants of the customer. We didn't need bells, whistles, bling, mirror and smoke to attract customers – all we needed was design and service. The rest took care of itself."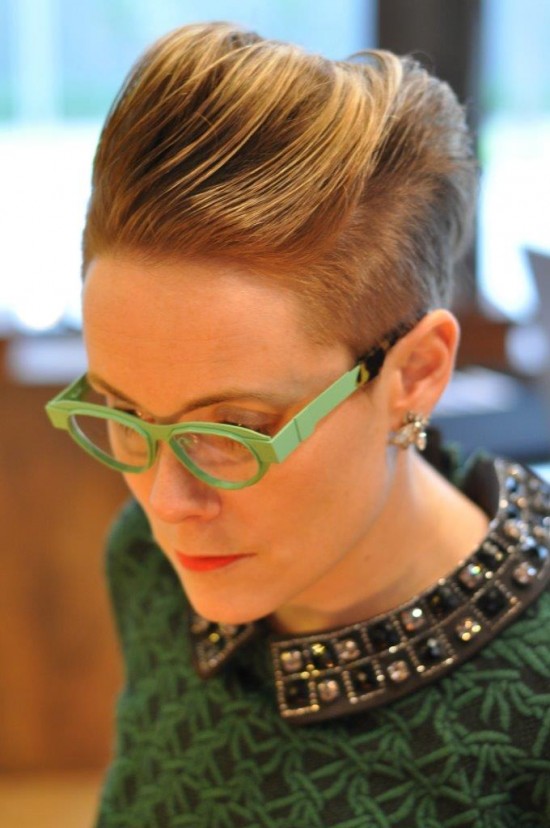 Soon after, the creation of the Niloca collection began. "I dispensed with the traditional design process of computer designs. The $50,000 worth of advanced software and hardware I had used in 3D Printing parts for automotive, mining and science companies now gathered a patina of dust.
"Boxes of Derwent, Pantone and Rotring implements took centre stage and I drew new models by hand on actual paper and made prototypes using tin, balsa wood, foam and card board. It was a chimerical process of tactile sensory pleasure, live in 3D in front of my eyes. I'd been deprived of this for many years as 2×30" flat LCD screens desperately tried to fool me into a 3D environment of CAD models to the 4th decimal point. This new found enthusiasm for drawing was immediately rewarding and solution driven."
By summer 2011/12, Colin had released his first sunglass model, Florna, named after the couple's first daughter. The colours chosen were derived from classic archived Italian acetates, meticulously stored in an Australian eyewear factory 5 hours west of Sydney. Florna is a classic chic frame infused liberally by Art Deco lines, proportion and as the designer explains, "the most important ingredient – chromaticness".

Several collections later came some Niloca "classics", such as Hyperfocus, one of the first Niloca concepts I saw myself at Silmo 2014. Handsculpted in the Jura in France, this acetate design, in patterned and single colour versions, has a cutting-edge 3d form, that flatters the face, but in a rather unexpected way. Like an optical illusion, the 3d effect is apparent really only when viewed from the side, not from the front; it's surprising, elegant and unconventional, all at once.
This time, our Silmo releases will hold more surprises, says Colin. "I'm taking the 3D form theme I started out with 5 years ago," he explains, "and pushing it even further. In 2013, we released a 'frame within a frame' concept, something people were scared of, but now copy in droves. So in Paris, I hope to give Niloca 'fans' more to inspire them, pushing the idea of depth to a new level." For more information: www.niloca.com / www.scoogle.com.au CN