Antique expert Catherine Southon is including a pair of Sir Winston Churchill's tortoiseshell spectacles made by his opticians C. W. Dixey & Sons in a Christmas auction on Wednesday, 6th December 2017. The auction will be held at Farleigh Golf Club, near Croydon, UK, not far from Churchill's Kent residence, and the spectacles are estimated to sell for up to £2,000.
The full rimmed round glasses with white dot to tip of each arm, contained within a leather spectacle case embossed C.W.Dixey & Son London 1777, together with a typed statement from Director of C. W. Dixey Mr P. Varnes verifying that the spectacles were made for Winston Churchill and claiming 'usually three pairs of spectacles were made to Churchill's prescription and kept at the Cavendish Square showroom later the Wigmore Street practice. After Churchill's death C.W. Dixey had three pairs of Churchill's spectacles still in their possession. It is believed one pair were given to Chartwell, one pair auctioned in 2011 and this is the final pair.
The spectacles were give to the present owner by Mr P. Varnes Director of Dixey and Sons, as the present owner, also an optician, was developing a new range of spectacles in the style of Churchill and Mr Varnes said he should 'have the real thing'.
Churchill was very fond of his distinctive eyewear – either half-eye or the fully round style which were tailored for specific purposes and marked accordingly. The metal dots in the corner of the frame indicate its purpose – one dot for reading only and two dots for speeches, but he also had specially made glasses for sketching, painting, or card playing.
The wartime prime minister was often seen wearing the circular tortoiseshell spectacles in his later years. He had several made, so he would always have spares and if there was anything wrong with them, they would then be left with opticians Dixey for repairs.
Catherine said: "We are absolutely delighted to be offering a pair of Winston Churchill's spectacles, especially as this area is very proud of its Churchill connection. His spectacles are as iconic as his cigar and hat. We expect a lot of interest both here and abroad as Churchill memorabilia is always very collectable."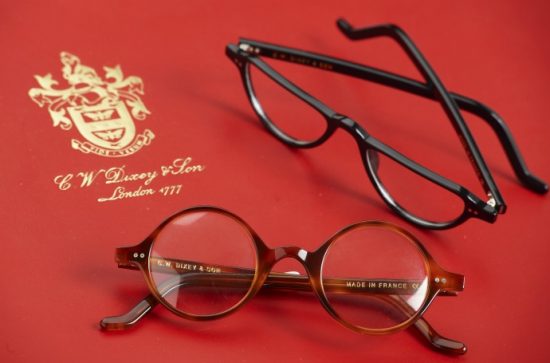 Today, the British spectacle makers C W Dixey & Son produce a range of classical designs including a faithful replica of Sir Winston's legendary circular frames, model Chartwell 01, picture above. More details on the line at http://www.cwdixeyandson.com/range.php
Further details on the auction visit www.catherinesouthon.co.uk / More about CW Dixey on Eyestylist.com: https://www.eyestylist.com/2012/02/men-and-their-glasses/ CN
Update – 11th December: The spectacles sold for £6000. (£7,296 incl. Premium and VAT). The spectacles were veryfied by a typed letter from the director of the opticians.