Collection 2020: re-edition of 'favourite styles' with elegant contemporary finish – a celebration of the sustainable label's 10th Anniversary
One of eyewear's innovative 'treasures', creative, pioneering, and committed to excellence in design, EOE Eyewear is celebrating 10 years in the optics business with inspirations in art and beautiful, wearable signature eyewear collectibles. Among the re-edition frames, each one updated with special nuances and nature inspired hues, are models Burträsk and Abisko – created in two special editions.
The EOE Eyewear brand started in 2010 when Erik and Emilia Lindmark were taking a snowmobile ride outside the small village of Ammarnas in northern Sweden. The white and softly rolling landscape gave birth to the idea of an eyewear brand that would combine inspiration from the barren nature of Lapland with the fastidious elegance so significant for Scandinavian design.
To mark the special Anniversary, EOE Eyewear has also been developing a special artistic collaboration. Finnish artist, Linda Linko has worked to translate some of the most evocative places and materials of their homeland which have inspired the EOE co-founders Erik and Emilia Lindmark throughout their first 10 years. Her work (above) will appear in packaging and cleaning cloths in 2020.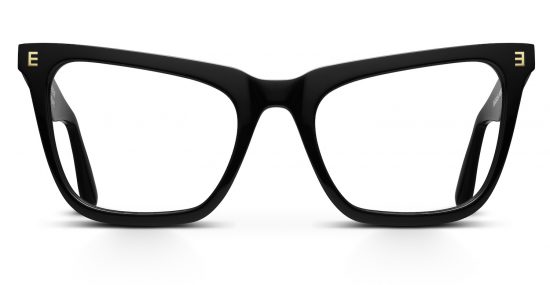 Burträsk is the cool cateye of the EOE Eyewear "family." Inspired by Emilia's grandpa, this dramatic feminine statement frame is now reissued in a new material, made entirely from waste products from inside the EOE Eyewear factory.
The light modified cat's eye shape of the second Burträsk edition is a wonderfully creative interpretation of this dramatic shape, with a lightness achieved through the open sections above the lenses and the narrow semi-rimless structure of the smooth metal which frames the top rim.
Model Abisko is named after a village located north of the Arctic Circle, a place known for spectacular views of the aurora borealis. The newly updated aviator shape has a very fine chic profile and highlights the U-shape of the Lapponian Gate, a striking element of the local landscape. Produced in a wonderful trendy green tinted titanium, the new edition also has a graduated tinted lens, inspired by the colours of the Northern Lights.
Meanwhile the Abisko Round takes the concept further in an oval eye shape with a uniquely feminine yet minimal design. Inspiration for the subtle delicacy of the light pink-purple lens tone comes from the early morning hues of Lapland's crisp winter skies.
"All of our frames are sustainably produced and fully recyclable and bio-degradable. EOE of today is considered a pioneer in sustainability. In 2019, we broke new ground when launching REGRIND, a concept which made us the first player in the global eyewear industry to produce new frames made from old ones." – Emilia Lindmark, EOE Eyewear
For more information visit www.eoe-eyewear.com