A father and daughter optical enterprise on Long Island (NYC), Spectacles of Great Neck has become one of our favourite retailers to follow on social media. Dr Philip Meltzer opened the business in 1988, with Erica joining in 2022. Their professionalism, quality eyecare service and eyewear offering – presented with an infectious, original energy on Insta reels – are making an impression that goes far beyond the community they serve.  Here we asked them a little bit more about the business and their working life together.
1. Tell us about the store, which I think has quite a few years' history? How long have you and your father been working together? Philip: Spectacles opened in Great Neck, NY in April of 1988, in a town with four other optical stores. With so many options for patients and customers, I knew I had to set myself apart. From day one, Spectacles has prided itself on excellent customer service and has adapted to meet the needs of a changing Great Neck demographic.
Erica: I graduated SUNY College of Optometry in May of 2022, so I've been working with dad for the year since. I also spent a lot of time working with him between undergraduate graduation and the beginning of optometry school, so we've fallen into a great groove over the last few years. (Above: Erica wears FACE A FACE and Philip wears J.F. Rey)
2. You have had what appears to have been a fabulous career so far in optics. What has made your working life fulfilling so far? Philip:I started my career in optician school before making my way to optometry school, so from the start I was uniquely positioned to see all of the opportunities an optical career has to offer. Nothing has been more rewarding than giving people the gift of sight. Watching someone experience perfect vision for the first time, or the smile on a child's face when they successfully learn to wear contacts makes every day special. Now after 35 years, the relationships I've built with my patients and my community are so fulfilling. Being alongside them as they experience bat-mitzvahs, weddings, children, grandchildren and more has been a career highlight.
3. How do you enjoy working with your daughter Erica? Philip: When my kids went to college I begged them to take some science classes, just in case they wanted to go into a medical career. They both declined my request so I never expected to be lucky enough to work with either of my kids.  Now with Erica as an optometrist and Max as a veterinarian, it's safe to say I was right about the science classes. Words cannot express how elated I am to share this career with my daughter. We are learning so much from each other every day, it has renewed my passion for learning. We have always had an incredible father-daughter relationship, and working together has only strengthened that bond. We have such a great time in the office together, and I love introducing my patients to the future of the practice. I am so proud of all the hard work she put in to get here, and so excited for her to have a career as amazing as I've had. My only hope is that she loves it as much as I do, and has a successful 35 years like I've had.
4. We absolutely love the Spectacles Instagram feed. When did you launch your Reels – what has inspired you to put so much energy and fun into the store social media? Erica: Wow, thank you! It really is a lot of fun. I've been working on it for a little under 10 years now, but the reels have really blown up in the last year. I've always had a creative side and didn't necessarily want to part with that even though I'm in a medical profession. I also worked as a social media manager for local businesses throughout college so I've watched Instagram grow and evolve from a business perspective over the last decade. I think it's really important for brands and businesses to showcase themselves on Instagram, and I think with optometry there are so many ways to do it. I love that optometry has a fashion component and a medical component and I didn't want to stick with just one on Instagram. Some days you'll see me posting about contact lens hygiene, the next day a stunning pair of glasses, and other days a silly video with dad. We've gotten such amazing feedback on it that I don't think I could slow down! My favorite (and everyone's favorite) videos are the ones dad and I film together, we get a lot of good laughs out of those. Of course social media is so important for businesses and brands in today's era, but we really want our page to showcase our personalities and to be authentic to us and our practice.
5. I know that you are working with a wide range of collections. Are you stocking any independent brands and could you tell us which ones and which ones you like best right now? Erica: I think we do a great job at carrying something for everyone! As far as independent brands go we carry: Barton Perreira, FACE A FACE, Dita, Mykita, Matsuda, J.F. Rey, Chrome Hearts, and a few more. We also carry a handful of luxury fashion names, but we have done a great job at taking independent lines and making them the household fashion names that people now come in looking for.
6.  You also have an eye for styling. Is this a natural gift or have you learnt how to do this in the last years? Erica:I have to say I really learned from the best. Watching the frames that dad has picked for people over the years on the first or second try has really taught me so much about how to pick an amazing frame for someone. At this point it comes very naturally to me, and I also try to make it a very collaborative effort with the patient because I want them to truly love their glasses. Now when I work with him I'm secretly trying to be the one to pick the pair that the patient likes best and really become the master!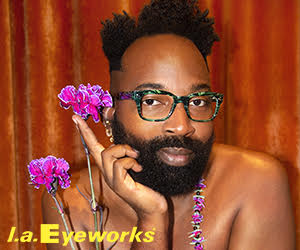 7. What are your top tips for styling now as we head into Fall? Erica:We're seeing some really great colors that are still subtle and wearable even for people who are a little timid when it comes to color. There are some gorgeous rich navy colors, aubergines, and green is still going strong from last season. We're also seeing thick acetates come back into style, and some really cool rimless metal sunglasses that are awesome unisex pieces.
8. Have you a favorite glasses shape and colour which expresses the new – season look? Erica: I'm really loving this piece from Barton Perreira (pictured above) and also an aubergine-toned Fendi (below right) with a gold temple detail. The bold cat-eyes are where it's at for me right now.
9. Will you shortly be travelling to Vision Expo West or Silmo? Erica: As of right now, we don't have plans to! After Vision Expo East in March we added a new fundus camera to the practice and don't currently have our eyes on more medical equipment. As far as frame buying goes, while we do love to walk the shows we usually put all of our effort into Vision Expo East since it's right in our backyard. But who knows, as it gets closer we might just use it as an excuse for a vacation!
10. On Instagram you have launched a super Frame Friday highlight. We spotted you in the CHROME HEARTS grey-toned optical which looked stunning. Do you have this photo to share and would this be a frame you would wear and for what type of occasion? Erica: I'm having a lot of fun with New Frame Friday! People always ask when we are getting new stuff in and the answer is truly every day. I love being able to pick a frame that came in during the week and show people an exciting new piece. Chrome Hearts is always easy to get excited about. Their attention to detail and the edginess of their frames is so different from what other companies are doing. That matte gray piece is definitely cool, I think for my personal style I'd wear that to elevate a basic outfit, like jeans, a white t-shirt and a leather jacket this fall. I also think it would look amazing with a transition lens in the gray/silver mirror, or as a full sunglass. It's slightly big on me so I don't know if you'll see it in my repertoire anytime soon but I'm still itching for my first pair of Chrome Hearts.
80, Middle Neck Rd., Great Neck, NY, USA