Creative highlights from this year's Paris eyewear event
There's one thing we are always in search of at the international eyewear event, SILMO: and that's innovation with a clearly defined creative or technical achievement in the construction, design or overall concept. This year the stands were loaded with forward-thinking design work and original collections, for the most part, with a strong infusion of interesting colour, exquisite tonal and material combinations, and increasingly daring shapes – which sat alongside very minimal pared back collections where the focus is clearly on lightness and comfort.
Key shapes included elongated cateyes and new 90s-inspired ovals, but the shape story is not confined to these statement looks and we found many geometric forms, octagonal or hexagonal shapes, and a strong trend for complex shapes or constructions that require accomplished design tricks with layering, cutting and colour. Above: a new collection by FACE A FACE with imagery which explores the phenomenon of Synaesthesia. The frames play with contrasts of colour and materials, taking inspiration from the world of fine art. www.faceaface-paris.com
Ørgreen's state-of-the-art Quantum collection saw the addition of the first Sun styles – a brilliant collection of 5 unisex, male and female designs, with futuristic cases fitted uniquely with the specific form of two of the statement styles.
Pictured above, 3.11 is one of the statement pieces among the designs: an oversize sun style for women which takes strong visual inspiration from the classics of the 1970s – a key theme at SILMO. The low bridge contrasts with large rectangular tinted lenses recall acetate frames from a bygone era, while the titanium and polyamide material add an urban and modern touch. 3.11 is available in three refreshing colours contrasting frame and lenses – from Black/Gun with an amber hue lens to Red Wine / Gold with a light grey and bronze tinted lens. www.orgreenoptics.com
Exceptional handcrafting in precious materials is always a highlight at the fair. From the Netherlands, Alexanian has a devoted following of customers who look for craftsmanship and luxury refinement in rimless and full rim designs created to perfection in solid gold, and in many cases studded boldly with jewels, on frame and even nose pads. The frame with a sculptural detail on the rim above in their new collection is inspired by watches and comes in white gold and 18kt gold. www.alexanian.nl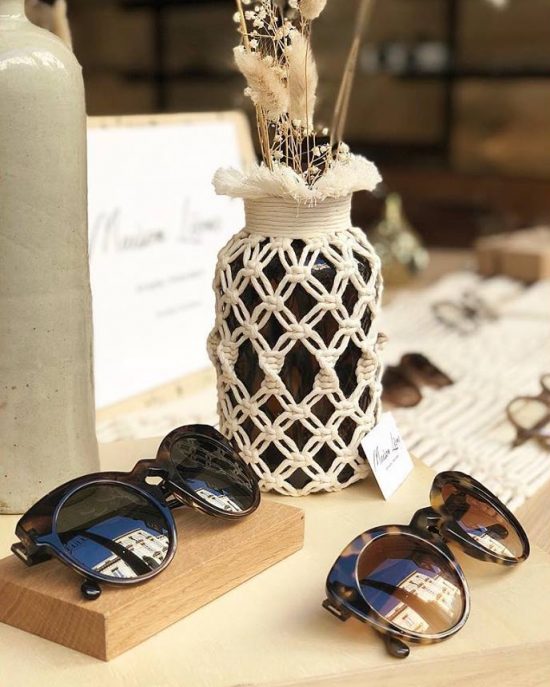 French eyewear creativity is well represented across the fair, and a handful of young designers are following the traditional spectacle making techniques making use of classic materials and features. The classical style was beautifully conveyed at Meg Eyewear, a label that produces frames in Oyonnax. The designs, specifically for women, offer high quality and sophisticated elegance in 'sober' iconic colour tones. www.megeyewear.com
Designers have also paid much attention to the effect of layering rims in different colours or materials on the front of the frame, to play with light and structure. A super example is the Theodore by SALT. Optics, where the round titanium rim features a delicate crystal inner rim in acetate. www.saltoptics.com
Also in our highlights this year is Portrait Eyewear, run by a young delightful brother and sister team, based in Milan, with a genuine passion for art and eyewear. There new Glitch concept is based on the glitch-art movement most often related to video art and photography. The frame surface reproduces the digital and analog interference with an unexpectedly glamorous effect on the face.  Find out more at www.portraiteyewear.com
Next year: SILMO PARIS takes place from 27th to 30th September 2019 at Paris Nord Villepinte. https://en.silmoparis.com/ CN